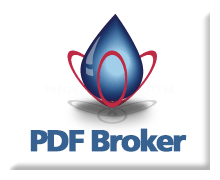 Document Conversion & Distribution
The ScriptServer PDF Broker is the essential tool for converting documents to PDF format and distributing them with one print command. This software provides a convenient network-based service that allows conversion from PostScript format to PDF format using either Adobe Acrobat Distiller or Ghostscript software.
The ScriptServer PDF Broker software is implemented as a Windows service that listens for connections over TCP/IP. It can receive data from virtually any PostScript printer driver. The PostScript data received is converted to PDF using either Adobe Acrobat Distiller or Ghostscript, and the resulting file is electronically distributed according to the currently defined "routers", which define the criteria used to determine how the PDF file is distributed.
You can even configure the Broker to archive, print, and e-mail documents simultaneously with a single command.
The ScriptServer PDF Broker is an ideal solution for the most demanding PDF creation and distribution needs.
---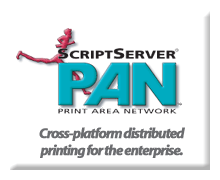 Complete Enterprise Printing Solution

The ScriptServer® PAN Printing System is a full-featured, highly distributed network printing environment. PAN does for printing what SANs do for storage: it allows printing resources to be accessible throughout a TCP/IP network without respect to which host or operating system is providing or requesting the printing service.

PAN is administered through a web browser, so all of the powerful features available can be managed from any host in the network. If desired, any administrative task can also be performed through the command line interface.

With PAN, users throughout your network have immediate access to all PAN queues and forms. New printers and configuration changes become immediately accessible without further drivers, software, or visits from your support staff. Printing clients can be running on Windows, Mac, or UNIX, as PAN allows access through the command line, web browser, LPR/LPD, and our free Windows driver.

ScriptServer PAN includes a best-of-breed electronic forms capability, allowing you to create complex multi-part, multi-media forms that are associated with a PAN form name for one-click access from any printing client. These forms can be defined device-independently, so that identical results are achieved regardless of the printer used.
---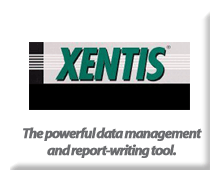 Powerful Reporting Tool for OpenVMS

The XENTIS® Data Management System is one of the most powerful report writing and data management tools available for the OpenVMS platform. XENTIS software is capable of manipulating and reporting data from nearly any type of OpenVMS database.
XENTIS features a report writer that is one of the most powerful in the industry. Novice end-users and advanced system administrators can easily design and generate complex reports.
XENTIS users can create industry standard or custom barcodes, create HTML file output, import and export data between databases, perform global data modifications, extract and consolidate data, assign access privileges to specific users to protect sensitive data.
Need more information? Request literature at info@graysoft.com
---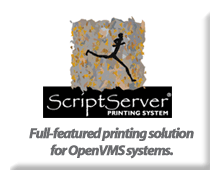 Robust Print Management for OpenVMS

ScriptServer® For OpenVMS is the premiere printing software for OpenVMS, providing a rich environment, flexible connectivity, and electronic forms output for virtually any PostScript and/or LaserJet-compatible PCL printer.
Highlights include self-configuring capabilities over serial, parallel, LAT, TCP/IP, and DECnet connections. Its broad feature set includes support for font management, printer hard disk management, robust formatting and conversion capabilities, electronic forms, and new to Version 6.0-3 .
Need more information? Request literature at info@graysoft.com
---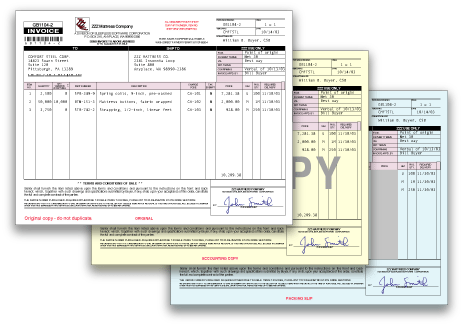 Forms Conversion Service

Save money with electronic forms instead of pre-printed forms.

For users of either of the ScriptServer Printing Systems, GrayMatter Software offers a service that converts your existing pre-printed forms to a format that can be used with the electronic forms feature available in ScriptServer for OpenVMS as well as with the ScriptServer PAN Printing System. We create high quality, vector-based artwork for resolution-independence, so your forms are as laser-sharp as your printer can print.

The technical team at GrayMatter can convert invoice forms, purchase orders, corporate letterhead, or any other preprinted form into a format that can be permanently downloaded (or downloaded as needed) into your printer. We even support two-sided forms for use with duplexing printers! Our electronic forms customers are saving hundreds, even thousands of dollars annually with ScriptServer electronic forms. Contact a GrayMatter sales representative today to have your pre-printed forms converted!


---

Software Maintenance Services

To help protect your software investment, GrayMatter Software offers complete maintenance and support services for all of our software products. Customers that subscribe to our software maintenance services receive free technical support and automatic distribution of new product releases and updates. The cost varies according to product and the number of software licenses purchased. Contact a GrayMatter Software sales representative for more information.